Skip Navigation
People
Troy Smith - Principal Investigator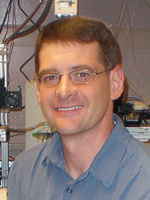 Melissa (Misty) Proffitt - Graduate Student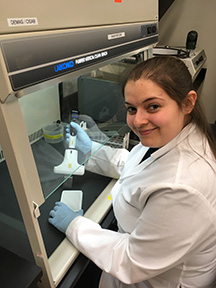 Misty is interested in the evolution of sex differences in behavior. Misty's dissertation research examines how species variation in hormone-related gene expression in the brain contributes to sexually dimorphic behavior. Ghost knifefish provide a unique opportunity to examine these questions because 1) their communication behavior (e.g., electric organ discharge frequency) is controlled by a simple neural circuit; 2) this neural circuit is influenced by hormones; and 3) there is species variation in the sexual dimorphism in the signal. Misty uses a comparative framework to examine how expression of hormone-related genes contributes to differences in sexual dimorphic behavior.
Megan Freiler - Graduate Student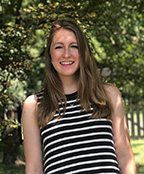 Megan is studying how the function of chirps evolves across social context in species that vary in their degree of sociality and sexual dimorphism. She is also interested in how steroid hormone production and neuromodulator receptor gene expression in sensory brain regions changes in response to social experience across species and sex.
Emily Harmon - Lab Manager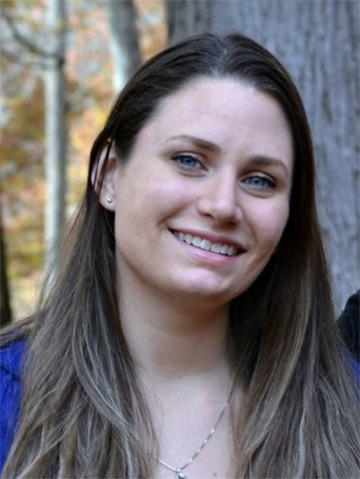 Emily supervises undergraduates who maintain our colony of electric fish. She is also responsbible for lab administration and manages the 'electric fish shuttle training' project to assess how electric fish perceive and discriminate among signals.
Alumni
Post-doctoral Fellows
Petra Telgkamp
Petra studied the role of serotonin in regulating sex differences in the electric communication signals of weakly electric fish. She was an Assistant Professor in the Department of Integrative Biology at Michigan State University from 2005-2009, and is currently a Research Scientist in the Department of Biomedical Engineering in the Institute for Quantitative Health at Michigan State.
Adam Smith
Adam studied the molecular phylogenetics of electric fish and led a transcriptomics project to examine sex and species differences in gene expression in the pacemaker nucleus, the brain region that controls the elecric organ discharges in electric fish. Adam is currently a lecturer in Animal Behavior at Indiana University.
Graduate Students
Hanna Kolodziejski
Hanna studied the role of substance P in regulating sex differences in chirping and the function of EOD frequency and chirping as communication signals in brown ghost knifefish (A. leptorhynchus) and black ghost knifefish (A. albifrons). She earned her PhD in 2007 and was an Assistant Professor at Keene State University, where she was greatly admired as a teacher, researcher, and mentor. Hanna lost a long and valiant battle with cancer in 2009. The Hanna Kolodziejski Fellowship was established to honor Hanna's interest in the study of animal behavior, her dedication to teaching and mentoring, and her devotion to community service. For more information about the Hanna Kolodziejski Fellowship or to contribute to the endowment that funds this award, Click Here
Antiño Allen
Antiño studied cellular proliferation and recovery of behavioral function following spinal cord injury in electric fish. Antiño earned his PhD in 2010 and completed a postdoctoral fellowship at UCSF, and is currently an Associate Professor in the College of Pharmacy at the University of Arkansas for Medical Sciences.
Cameron Turner
Cameron studied the evolution of EODs and chirp structure in numerous apteronotid species. Cameron earned an M.S. in Zoology in my lab in 2007. He worked as a fisheries biologist for an environmental consulting firm in California from 2007-2009 and received his Ph.D. in Biological Sciences at Notre Dame University in 2014. He works as a consultant in the field of environmental DNA.
Karen Bohorquez
Karen studied the effects of social environment and dominance on hormones (androgens, estrogens, and cortisol) and electric communication signals in brown ghost knifefish. She graduated with an M.S. in Zoology in 2013.
Winnie Ho
Winnie used behavioral, hormonal, and molecular techniques to study the mechanisms of population-level variation in the sexual dimorphism of electric communication signals in black ghost knifefish (Apteronotus albifrons). She also worked on a collaborative project to generate a molecular phylogeny of the ghost knifefishes and worked on several projects characterizing sex differences in the communication signals of several knifefish species. She earned her Ph.D. in Evolution, Ecology and Behavior in 2013, completed postdoctoral training with Stacey Smith at the University of Colorado and Jeff Riffell at the University of Washington. She is currently an instructor in Biology at the Universtiy of Washington.
Jacquelyn Petzold
Jakki studied sex differences in EODs and chirping in Parapteronotus hasemani. Her Ph.D. dissertation used computational approaches to study the coevolution of different types of electric communication signals and how fish perceive and discriminate among conspecific EODs and chirps. Jakki earned her Ph.D. in Evolution, Ecology, and Behavior in 2016, and is currently a quantitative research assistant for the Law School Survey of Student Engagement at Indiana University.
IU STARs Undergraduates
Muchu Zhou
Muchu was an undergraduate researcher in the IU STARS program. He studied sex differences in the electric communication signals of the marble leaf knifefish (Adontosternarchus devenanzii) and the role of feedback and interactivity on the function of electric communication signals in brown ghost knifefishes. He graduated with Honors in Biology in 2008 and is received a PhD in the Program of Ecology and Evolutionary Biology at the University of Illinois in 2014, and is currently managing the zebrafish facility at the University of Michigan.
Andrés Morera
Andrés was an undergraduate researcher in the IU STARS program. He studied electric organ regeneration in the glass knifefish (Eigenmannia virescens) and tiger knifefish (Rhamphichthys rostratus). After graduating in 2009, Andrés joined the NIH-funded PREP program at Arizona State University, and earned his PhD in Molecular and Cellular Biology from the University of Arizona in 2018.
Undergraduate Research Interns
Nitin Kumar (L490, 2002)
Marion Alston (REU, 2002)
Alison McNamara (MEDIC-B, 2002)
Jenna Schuster (REU, 2004)
Sara Sanford (REU, 2005)
Maxsimilian Derylo (REU, 2006)
Victoria Flores (REU, 2007)
Ryan Howell (L490, 2008-9)
Jessica Rack (REU, 2008)
Ken Formby (REU, 2008)
Amanda Buck (L490, 2009-10)
Chelsea Holman (REU 2010)
Lisa Weatherly (REU 2010)
Ben Gerroll (L490 2010-2011)
Danny Fernandez (REU 2011)
Bernadetta Bernatowicz (REU 2012)
Shilpa Reddy (L490, 2011-12)
Matthew Mendoza (REU, 2013)
Erin McNeil (L490, 2013-14)
Lizeth Achiry (2013-2015)
Stephanie Polukort (REU, 2014)
Jared Doyle (L490, 2014-15)
Alex Neufeld (L490, Honors, 2014-15)
Brianna Silver (REU, 2015)
Claire Mullaney (L490, Honors, 2014-17)
Ruchao Qian (2015-2017)
Cody Sorrell (2016)
Evan Lawyer (2016-2018)
Sabrina Serrano (REU, 2016)
Juliette Horn (X490, 2016-2017)
Klayton Harmon (X490, 2016-2017)
Emily Yang (2017)
Grascen Shidemantle (REU 2017)
Thomas Kelly (X490, 2016-2018)
Juan Galindez Mingo (2018-2019)
Molishka Flores-Narvaez (REU, 2018)
Brandi Pessman (REU, 2018)
Connor Mroz (2018-2019)
Alyssa Saunders (2018-)
Mikayla Deckard (2019-)
Cameron McClaine (2019--)